So you have your kayak, your paddle, and your PFD. How are you going to get your boat from your house to the water? There are many different ways to transport your kayak. We are going to look at the best kayak rack for cars and trucks.
If you don't already have a regular roof rack already, you can find some here. Just make sure they are compatible with your vehicle. You can use the Eastern Mountain Sports Thule Guide for compatibility questions. At the end of the page, you will find some other ways to transport your kayak if you don't want to use a roof rack.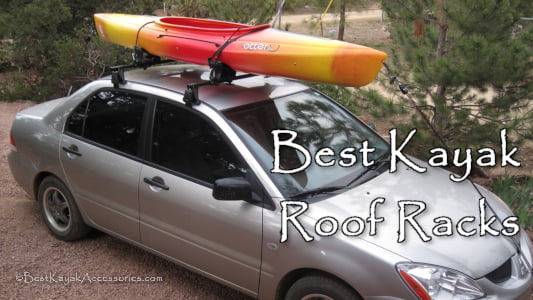 Car/Truck Racks for Kayaks
1. Thule 898 Hullavator Pro Kayak Lift System Shop Now
Load assist w/ gas struts takes 40 lbs of the kayaks weight.
Easier load & unload unassisted
Fits hulls up to 36″ wide & 75 lbs.
Waist level loading and unloading.
Fits Thule rack systems (except Edge) and round bars with T-track & around the bar options.
Optional: Thule lock cylinders (Shop now)
3. Lockrack Universal Rooftop Watersports Carrier Shop Now
Ratcheting design w/ 4 touch points
Arms fold flat when not in use
T-bolt mounting, with adapters for round or square bars
5. Thule Hull-a-Port XT Rooftop Kayak Carrier Shop Now
J-cradle or 2 boat stacker style carrier
Folds flat
Supports 1 boat up to 75 lbs or 2 boats up to 130 lbs combined weight
6. Thule Dockglide Kayak Saddle Shop Now
Saddle style carrier
Felt-lined rear saddles assist gliding kayak onto vehicle.
Holds kayaks up to 36″ W and 75 lbs
Fits most Thule rack systems, round bars, and factory racks
Specialty Racks / Other Options
Truck Bed Extenders
1. ECOTRIC Pick Up Truck Bed Hitch Extender – Shop Now
750 lb capacity
53.5″ L from center of 1/2″ hitch pin hole
Adjustable width: 28.25-48.75″ W
Adjustable height
Helps transport kayaks in your truck bed that extend beyond the bed of your truck.
2. Erickson 07605 Pick-Up bed Extender Big Bed Jr. – Shop Now
350 lb rating
52″ L
50″ W
Adjustable height
Helps transport kayaks in your truck bed that extend beyond the bed of your truck.
High mount option by inverting it when inserting into receiver.
Truck Racks
AA-Racks X35 Truck Rack with (8) Non-Drilling C-Clamps (Shop Now)
Easy installation
Extendable top bars fit different size truck beds.
Doesn't work with trucks with Utility Track systems.
Can customize the carriers that you want to use with the bars. See frequently bought together or recommended listings for other packages with these bars.