Welcome to Best Kayak Accessories – Your source for the highest quality and highest value kayak equipment! We update our site frequently with the latest kayak accessories on the market, so you don't have to search all over the internet to figure out what you need. We make our recommendations based on our usage and other reviews for each of our top kayak accessories.
Whether you are looking for the best kayak paddle, best pfd for kayaking, best kayak deck bag, or anything else kayak related, we have compiled the best kayak accessories information in one place for you. Use these pages to narrow down your list once you've decided to buy a new paddle for example. Also, find ideas for items you may not have thought about that can make your trips more enjoyable.
Why Best Kayak Accessories?
When I first started kayaking, it seemed like there was so much to know. There were so many different accessories. Which ones do I need? Which ones would I use? Then, once I had figured out what accessory I needed, there were so many different options. Which is the best value? Do I need the most expensive? If I get a cheaper one, will I want to upgrade again in a few months?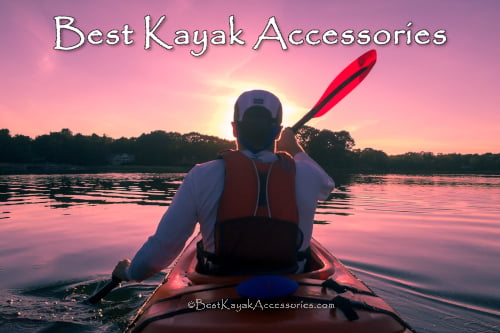 These are all great questions when you are reviewing the best kayak accessories. In our reviews, I try to balance quality and price to rate these accessories on the best overall value. I also research customer reviews, and mix in our own personal experience with these items. If there are any items that you feel should be on our list, then send us a message and I'd be glad to take a look at it.
I have some of my own story on the About Us page, and I will try to share info from different kayak trips that I've been on. It is peaceful and relaxing to be out on the water and finally able to enjoy nature. We hope that this page helps you find accessories that help you enjoy your time on the water even more than you already do!
What's on your kayak blog?
After a kayak trip, our blog highlights the day on the water. We are located in Florida, so we go on a variety of trips. Gulf shores, mangrove flats, rivers, lakes, and more! Additionally our blog highlights the best kayak accessories as we review specific equipment. We recently started kayak camping, so tips and lessons that we've learned are included. You'll see some great photos of each trip and maybe some gopro videos soon. We'd love to hear your thoughts on these trips and reviews. Let us know in the comments on each post!
What are the best kayak accessories I should consider?
Kayaks: We rank the best sea kayaks, touring kayaks, recreational kayaks, space-saving kayaks, fishing kayaks, and more!
Paddles for Kayaks: Kayak paddles are one of the most important accessories for kayakers. It is like the motor in a car. Having a lightweight, efficient paddle will make a big difference in your kayaking experience. Don't be afraid to test out different paddles, and don't be afraid to spend a lot on a good one. If you get the right one, it will last you a long time and be worth the money in the long run.
PFDs for Kayaks: While the paddle may be like the motor, your PFD is the most important safety accessory. Obviously it is better to not capsize or fall in the water, but you never plan on an emergency situation. Find a good PFD that will be comfortable and wear it when you are on the water.
Kayak Storage: This section covers storage in your kayak when you are on the water and storage when you are keeping your kayak when it's not in use.
On the water: Dry bags and deck bags give you areas to keep your food, drinks, and other gear dry while you are on the water.
When not in use: Kayak cockpit covers protect your cockpit area while not in use and kayak storage racks give you different ways to hang, suspend, or stand your kayak in your garage, yard, etc.
Kayak Racks for Cars and Trucks: We share some of the best racks to transport your kayak from your home to your launch. Roof racks, tailgate extenders, and more.
Spray Skirts for Kayaks: Spray skirts are designed to keep you dry when you have waves and rough water that would normally cause water come over the coaming and into the cockpit area.
Misc Kayak Gear: This page includes kayaking gloves, bilge pumps, kayak carts, rudder kits, hardware kits, paddle leashes & holders, and safety equipment like first aid kits.