Evening Day 1
As the sun went down on Day 1, I enjoyed the evening. Watched an amazing sunset, strolled down the beach, and enjoy the quiet serenity. I think I was the only one camping on the island this time! If you missed what happened earlier in the day, check out Day 1. Check out the sunset, moonlight, and sunrise pics I caught.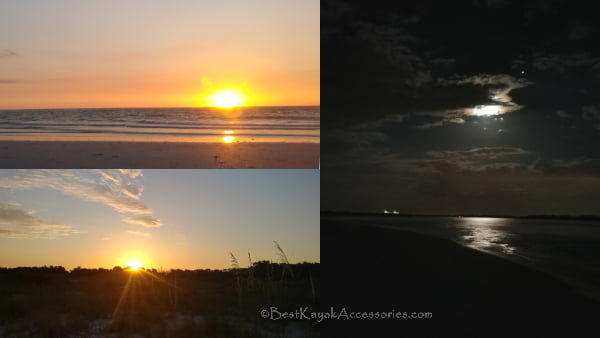 Wow, makes me want to go back already! After the sun went down, it was a weird feeling. Last time I camped out here, I met some other campers and enjoyed an evening with them. Also, from May 1 to Sept. 30, no campfires are allowed. I believe this is due to sea turtle nesting season.
Without a campfire and no company, I ended up on a Google Hangout call with a couple friends from various parts of the country. It was kind of weird to be talking to them while camping with no facilities, but it was a nice way to spend the evening. The only thing I didn't consider was that it took more battery than I expected on my phone. My Ridgid charger worked great, but I had partially charged it, talked on the phone, and then only got about 70% charge before the Ridgid battery died. Next time, I'll bring 2 and I won't chat so long.
Food
I don't know where to fit this, but I did talk about kayak camping lessons learned with food last time. This time I brought a larger variety. I still did a Publix sub for lunch on Day 1 and I had PB&J if I needed it. I also had my IceMule cooler and precooked a piece of steak and a piece of chicken. Those held up really well and I was happy for the variety. Next time, I think I'll find a 1 burner stove so I can have it fresh, but I was happy with the food situation overall this time out.
Day 2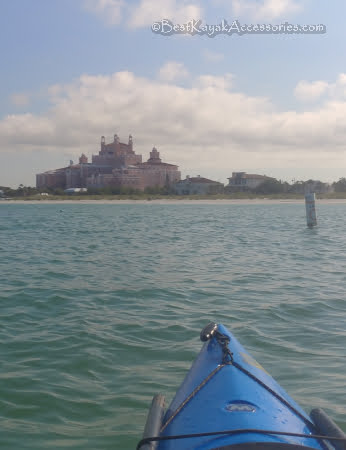 So you can see the beautiful sunrise that met me on the morning of Day 2. I planned to take it easy today. Enjoy the beach, snorkel, and then pack up in the afternoon and head back. Originally I had planned to go to the north shore of shell key to look for shells. Not as many people come out there, and I figured with the snorkel I might be able to find some nice shells.
When I got there, I was alone and there were waves and currents. I'm a good swimmer but figured I didn't need to mess around in that water by myself. Off in the distance, I could see the Don Cesar hotel on St. Pete Beach. It's right there, right? Well it's a little further than I thought, but I had already committed. It was a nice paddle along the shore, and I could see people just getting out to enjoy the beach. When I reached the Don Cesar, I just floated for a few min and enjoyed the beautiful morning.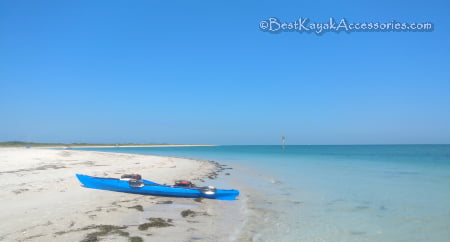 Back to Camp
Next I headed back. Since snorkeling didn't go as planned and I was already at the north end, I figured I'd go around the back of Shell Key and finish circumnavigating it. I crossed Pass-a-Grille North Channel again. This section is the closest part of Shell Key to civilization. It had some live shells, and it must have been mating season. I found a few pairs of conchs mating. That was something I hadn't seen before.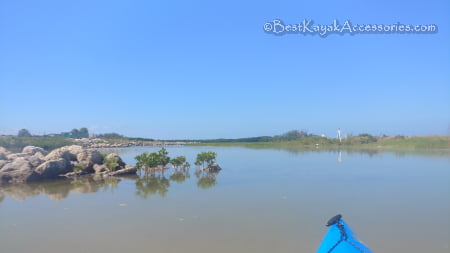 Now on Google Maps, it shows a pass where you can get around Shell Key by water. The pass filled in or something, because it's no longer there. I had to portage maybe 100 yards to be able to get on the east side of the key with the flatwater. After the portage, here is the inlet that you start off in. Unfortunately, this is where my phone died, so I don't have any other pics on the way back. Honestly, I was pretty tired, though, and I was ready to be back at camp.
I paddled through the flatwaters of the backside of Shell Key, and finally got back to camp. So much for an easy day 2! I snorkeled a bit and then decided I'd done everything I wanted to. My dog was being boarded this time, so I was ready to pick her up. I packed up camp, jumped in the water to cool off, and then got in the kayak for the 2.5 mile trip back to the boat ramp.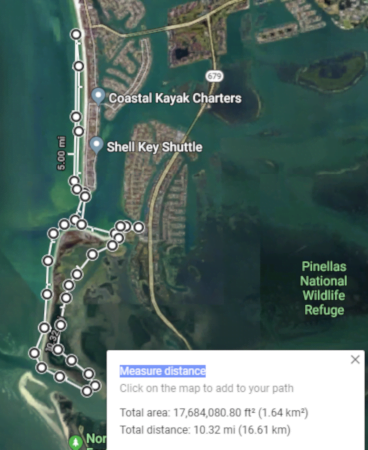 Trip Summary
So Day 2 was just over 10.25 miles according to my estimates on Google plus the 2.5 back to the boat ramp. Overall that puts me at just over 25 miles for the 2 days! I swear I'll relax and rest on one of these trips.
I'm already trying to plan the next one, but I definitely want to try somewhere different.
Lastly, I'll leave you with a few of the shells I collected. The normal-sized conch shells in the bottom center give you some perspective for the others. The ones around the edges are some of the largest shells I've seen, although they aren't in the best of shape.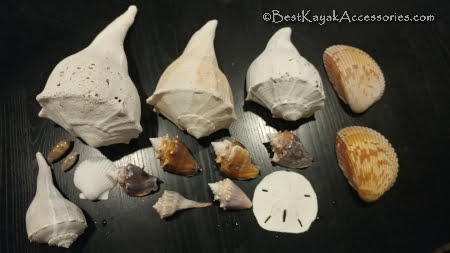 Where's your favorite place that you've kayak camped? And if you're in Florida, where should I go next?