I learned a lot of lessons from my first kayak camping trip to Shell Key, and I was very excited to go back out the second time. Thanks to some REI gift cards, I had a lot of new gear to try out. Of course, any day at Shell Key is a good day. If you haven't been there, check out the pics coming up, because it's amazing.
Prep Work
If you read my article on kayak camping lessons that I learned last time, you'll know that planning is important. I didn't want to get to the launch and realize that stuff didn't fit as I expected it to. This time, I packed everything on my driveway the night before, and I was very happy with the fit.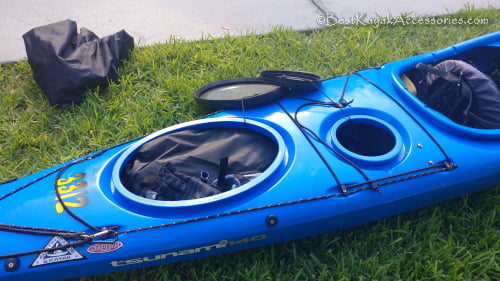 I fit my tent, sleeping gear, snorkels, and clothes in the back hatch. I also made sure my new tent, sleeping bag, sleeping pad, etc. were all functional. For a full list of new equipment, check out the lessons link above. With everything tested, I was ready to go.
Launch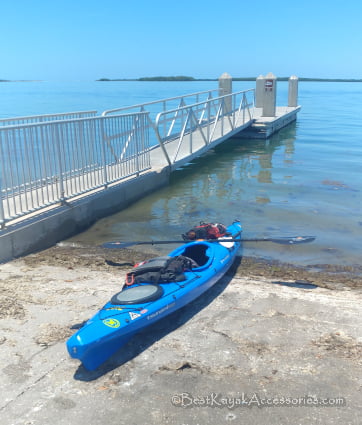 I launched from Ft. De Soto boat ramp again, as this is the only place I know of with overnight parking in the area. You can see the difference here compared to my launch pic on my first Shell Key trip. The opening to the rear hatch seems a little bigger on the Wilderness Systems Tsunami 140 (Shop Now) vs. the older Perception Carolina that I used last time. The front hatch contained all my food and drinks. I had my PFD on the back here, but that was much better than having the tent on the rear deck like I did last time. And we're off!
Campsite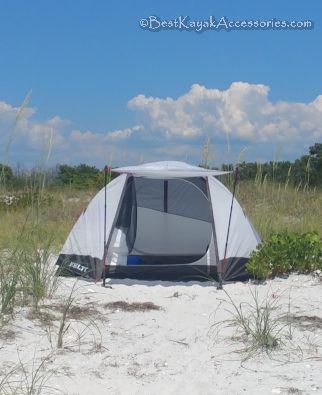 The paddle is about a mile and a half to the southeastern tip of Shell Key. Last time, I camped on the channel of Bunces Pass. This time, I went around to the western shore, so I was facing the Gulf. It was about a mile further, but wow, was it worth it! I found a nice clear spot facing the Gulf and set up camp.
Check out this view!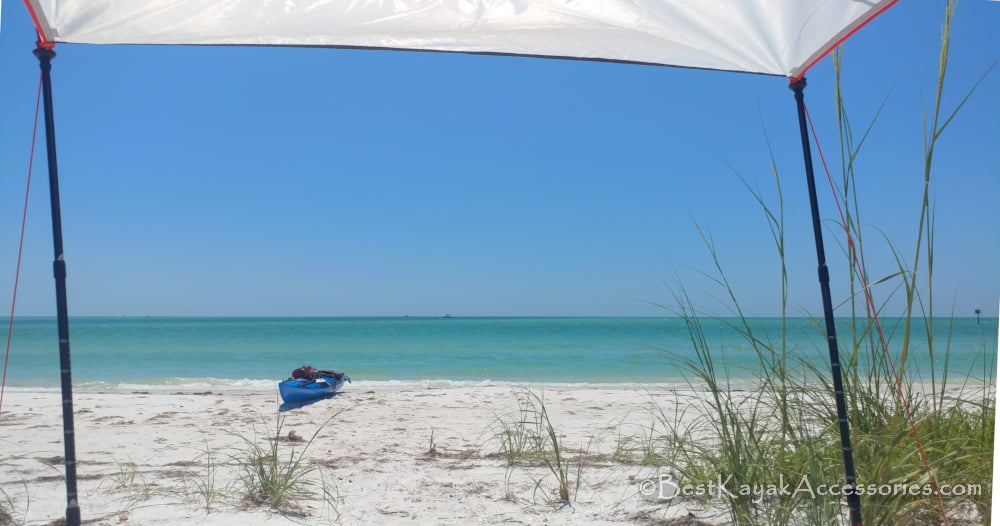 Kayak Trip for Day 1
Bunces Pass – Northern edge
Having finished setting up camp, it was time to enjoy the day. I snorkeled for about 15 minutes to cool off and found some shells. I have a friend that collects shells, and it's fun to be on the lookout for stuff when you're out by yourself. Last time, I kayaked around Shell Key. So this time, I decided to kayak around Ft. De Soto, which is a number of smaller keys. After cooling off, I jumped in the kayak and headed back through Bunces pass towards the boat ramp again.
In between Shell Key and the boat ramp is a large shallow area that is exposed during low tide. Since this was high tide, shallow water covered the area and apparently a couple of dolphins decided it was dinner time. I sat and watched the dolphins for probably 15 min with one other kayaker. They swam straight at me at one point and passed only a few feet from my kayak!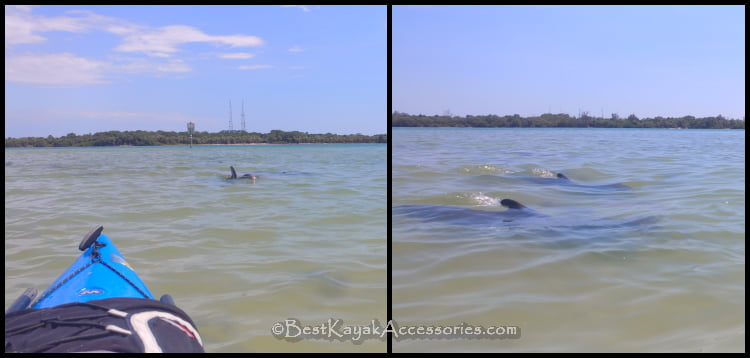 The current through Bunces Pass made the start of the trip a little slow, but I pushed through. I passed the boat ramp, and crossed under the bridge for the Pinellas Bayway.
Ft. De Soto – East and South Edges
Coming out from this bridge, I could see the eastern edge of Ft. De Soto and the Skyway Bridge off in the distance. I remember this part of the paddle being pretty peaceful, but I wanted to save my energy for later. I knew I'd need it later, but I even underestimated how tough the last leg was going to be.
As I turned the tip on the east, I expected the waves to be worse. However, the south side was still fairly calm. I made good time, while enjoying nature. I saw plenty of mullet jumping, a stingray, and various other fish. Ft. De Soto also has a nice dog beach near the ferry for Egmont Key. When I got to the dog beach, it seemed like a good place to stop. I got out, stretched my legs and back a bit and took a stroll down the beach. This was a nice break, but I realized I was probably about halfway and the fun was about to start.
Ft. De Soto – West/Gulf shore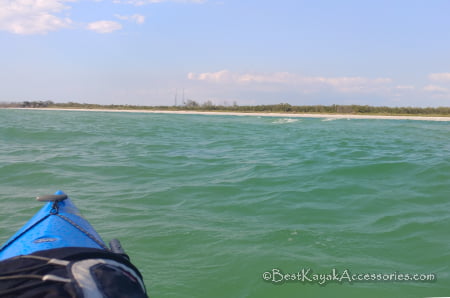 As I turned the corner near the fort, I realized this was about to get fun. The waves were choppy and I had breeze right in my face. The picture doesn't do it justice, but the waves were coming from 2 different directions and were breaking in some areas.
As I got past the pier on this side, there were a couple of women looking in the water. I stopped to talk to them for a minute and realized that they were watching a couple of manatees. With the rough water, they were just coming up for a second and then diving to the bottom again. I caught a glimpse of a few of them and then it was getting difficult to keep the kayak away from the beach goers and the manatees, so I decided to continue on.
Everything was sore by this point. It had been a long day of paddling and the last few miles were tough. I could finally see camp, though. I crossed Bunces Pass for the last time on Day 1 and pulled up to camp just before sunset. That's enough for now, but check out this post for the evening and Day 2.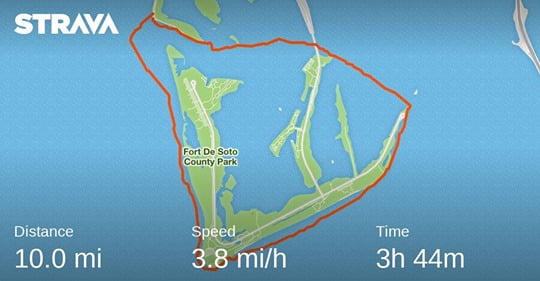 Here's my trip stats. This was my first time using Strava, and it looks pretty accurate. This doesn't include the paddle to the campsite so 12.5 miles approximately for the day. I'll take that. The plan is to take it easy and enjoy the time on the island for Day 2. We will see if I accomplished that. In the meantime, check out the sunset!