I started kayaking about a year ago, and I thoroughly enjoy my time on the water. Sometimes, though, between loading up, driving to the launch, packing up, and driving home, the day gets kind of rushed. So when I found out that you can camp at a nearby island, it seemed like the perfect plan. Get a leisurely start to the day, paddle out, and set up camp. After that, explore the island, enjoy the evening, and take my time going back the next day. So I planned an overnight trip. Since it was during the week, this was going to be a solo trip for me. This trip was on March 14 & 15 of this year, but I am just getting to write my review now.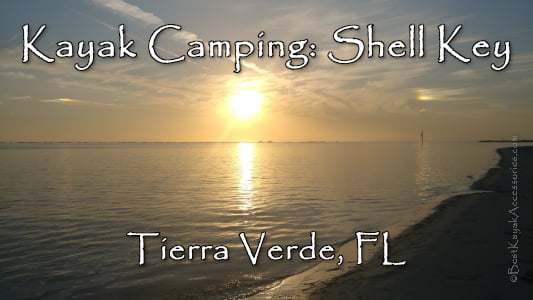 Background
I grew up camping, but it had been quite a while. I gathered most supplies that I had, knowing that only 1 night wasn't a big deal. However, most of my items were for campgrounds where we'd drive a car and unload. Make sure to check out my other post to see what lessons I learned from the trip. A Publix sub, some easy food like PB&J sandwiches, and protein bars is what I decided for food.
Before you camp on Shell Key, you do need a permit. These are free, but make sure that you get yours before your trip. Also, familiarize your self with the rules, as there are some restricted areas on the island, and there are no facilities. Campfires are only allowed during certain times of year due to turtle nesting season.
Related: Top 10 Places to Kayak in Tampa Bay Area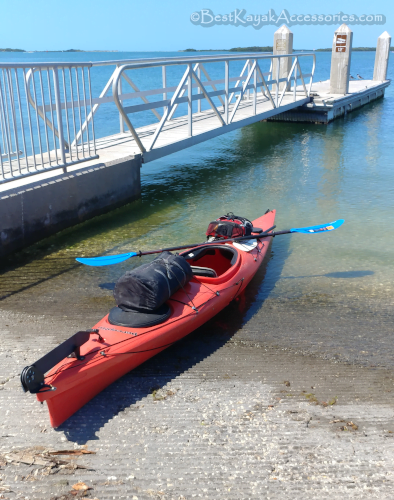 Launch
When camping on Shell Key, the only overnight parking is at the Ft. De Soto boat ramp. I parked there, and loaded up the kayak. I was using a Perception Carolina 14 (Shop Now) at the time.
My sleeping bag took up almost my whole rear hatch, and you can see my tent on the back deck. I had plenty of food, water, and Powerade in the front hatch, and my clothes and a few accessories were in my best deck bag for kayak. With everything loaded, I was ready to go.
Setting Up Camp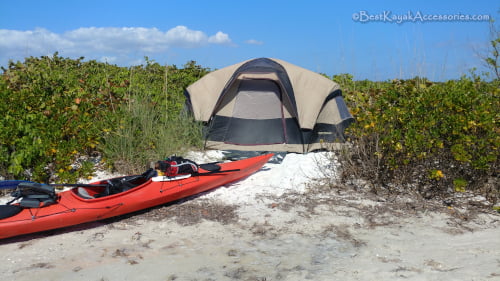 The paddle from the boat ramp to the campsite was about a mile and a half. The deeper water of Bunces Pass made the water a little choppier, and my heavy tent being on top of the deck made my kayak a little less stable. This was my first trip with my Sea Sprite kayak spray skirt, and I was thankful to have it at this point. I didn't quite know where to set up camp, but I met some other nice people staying on the island for the night. They directed me to a place further up the beach, and my tent fit perfectly right above the high tide line.
Enjoying Day 1 From the Kayak
After setting up camp, I decided to paddle all the way around Shell Key. It doesn't look too big on the map. It was a bit further than I thought. Turns out, the whole trip around was about 6 miles. The east side was very calm, flatwater. Here I saw a lot of snook, mullet, and other fish up against the mangroves. The northeast side appears to be a pass, but in reality, I had to portage for about 100 yards. No big deal, but it was different than I expected looking at my map.
I explored a little east of the key as there were some houses and canals, but decided to get back around the island before it got too late. Once I turned the northwest corner and was on the Gulf side, I was thankful for my spray skirt again. Going parallel to the shore with the waves coming in was something that I didn't have a lot of experience with, but it was fun. Getting back to camp, I was tired, but still wanted to explore. I walked along the beach and started picking up shells. It's called Shell Key for a reason, right? There were shells everywhere, and I got to the west shore overlooking the Gulf just in time to watch the sunset. My phone also died right about this time, so I had no map or camera for Day 2.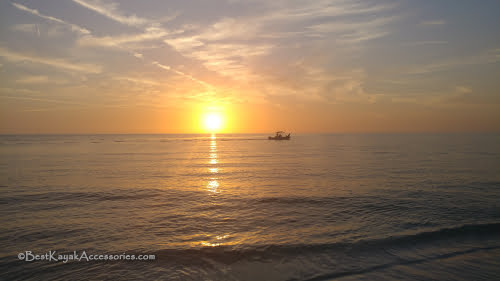 Evening of Day 1
So evening is where I had some more lessons. I hadn't brought firewood for space reasons, and you were supposed to carry out all of your ashes. It just seemed like a hassle, so I didn't mess with a fire or firewood. I also planned to use my phone or power bank if I needed a flashlight. I went down the beach and the people I had met earlier invited me to hang out with them, so we sat around their fire and talked until late into the night. They were very friendly and I was glad to meet some people on this trip. I went back to my tent and went to sleep, but quickly realized that I didn't bring a pillow.
Day 2
Without a pillow, I hadn't gotten the best sleep. My phone was still dead, so I didn't know what time it was. I'm usually not a morning person, so I assumed it was mid-morning. I kayaked back to the west beach and looked for some more shells. After a bit of shell collecting, I looked across the channel to a big sandbar that has formed recently and the North Beach at Ft. De Soto. I decided to paddle around and explore those areas.
Looking out from North Beach, I could see Egmont Key. I was half tempted to paddle across to it, but I figured it was further than it looked, and probably shouldn't undertake that solo for my first full open water experience. North Beach was a good rest point. I brought a mask and snorkel on this trip, so I decided to try those out. Visibility was pretty low here, but it was still fun. It also inspired me to bring my mask to the spring-fed rivers on future trips which has proven to be a lot better. It felt like I had done a whole day of activites, so I asked a beach goer what time it was, and it was only 1030AM! I spent midday hanging out with the friends from the night before, and kayaking in the flatwater on the east side of the island again.
Calling It a Day
By early afternoon, I had seen what I wanted to see, my new friends had left, and I was tired. When all was said and done, i estimated that I had paddled about 16 miles for the 2 days! I packed up camp, loaded up the kayak, and paddled back to the boat ramp.
Wow, what a trip! I wish I had more pictures from Day 2. I thoroughly enjoyed this trip, even solo. It was relaxing, peaceful, but exciting at the same time! I'm already planning another kayak camping trip, and if I can recruit some friends to join me, I'm hoping to try some river trips later this year.
Check out this article about the lessons I learned on this trip. Have you been kayak camping? Where was your favorite spot, and what tips do you have?