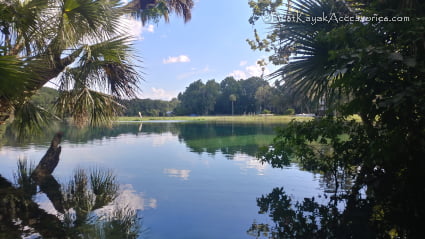 I didn't write a review after my first trip to Rainbow River, because I felt like I didn't get a true feeling for the kayak experience. I was out on Easter Sunday and there were a lot of boats on the water. Well this week, Best Kayak Accessories made it back to kayaking Rainbow River in Dunnellon, FL and I'm glad we did!
Launch
From Tampa, Dunnellon is a long drive. You will want to get an early start, so you can take advantage of the day on the river. We launched from KP Hole park (Site). There is a $5 launch fee. Parking can fill up pretty early during the summer and weekends, so again, try to get there early. There is a nice ramp to launch from but you do have to carry your kayak a little distance down a ramp/dock to get to the launch ramp. It can be a little slick, too, so be careful getting in and out of your kayak. Also, no plastic bottles, plastic wraps, etc are allowed on the river, so make sure your lunches and drinks are in non-disposable containers. Grab your best kayaks and best paddle for kayaks, and let's go!
Kayaking Rainbow River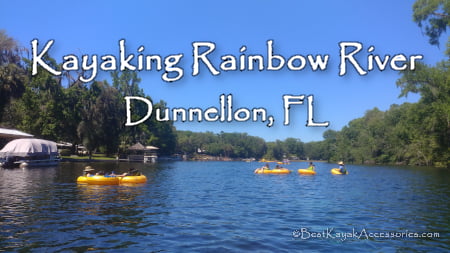 There is a downstream paddle that goes to Blue Run park. If you are renting kayaks from KP Hole, they offer a shuttle service. The current isn't very strong though. The first time at Rainbow River, I went about 1.5 miles downstream and then paddled back up to the spring head. The downstream section wasn't particularly memorable. There are houses along one whole side of the river and there aren't a lot of places to stop. This is true upstream too, but there are some highlights that we will list below that make kayaking Rainbow River a unique experience.
Related: Top 10 Places to Kayak in Tampa Bay Area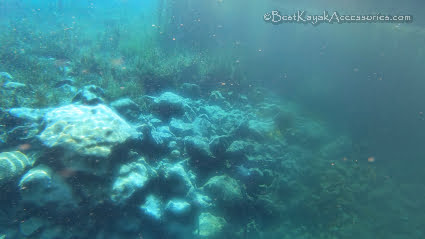 At the spring head is Rainbow River State Park. This used to be a private tourist attraction that the state purchased to become a state park. You can land your kayak here and explore the park, but I believe there is a $2 entrance fee to the park. I didn't actually land here to confirm this. There are a few smaller spring vents around the river head. Many of these are in restricted areas, but it is definitely worth checking out. Also, when heading downstream from the swimming area, on river left just a little before the State Park sign in the river, there is a spring area that is really amazing. It's easy to miss from the middle of the river, so be on the lookout for it. Now for the highlights:
#1 – Clear, Spring Water
As a spring-fed river that is 72 degrees year-round, the water is really clear. It was clearer in March/April. In August, there were more algae and particles in the water, but even so, it was very clear. I bet the clear kayaks here would be amazing – almost like snorkeling. Also, I think this would cut down on the ripples which can make it harder to see through the surface of the water.
#2 – Indian Creek / Gissy Spring Run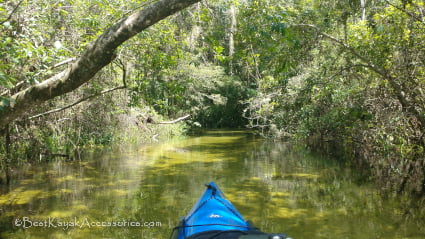 This side paddle is definitely worth taking the time to explore. It is narrow and shallow, but the water is even clearer than the river, which is really clear itself. Being shallow, it seems like it would only go a short distance. However, it goes a lot further than you'd think. I forgot to turn on Strava to get the distance, but I've seen estimates that the run is about a mile. Eventually you get to a gate with a small opening that you could kayak through. I know Gissy Springs is on private property. Also, I don't know all the specific legalities of waterways, so I didn't venture through the gate. Here is some info on the Gissy Spring restoration (Here).
#3 – Snorkeling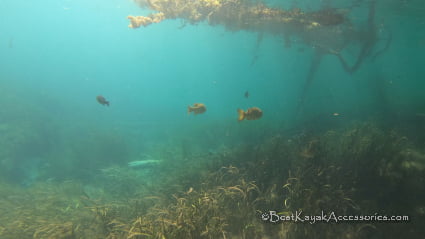 Kayaking on the Rainbow River is nice. Although, I don't know if I'd drive almost 2 hours from Tampa if it was just to kayak this river. The snorkeling is amazing though! It's like a whole other world below the surface. Just a little way upstream from Gissy Spring Run are a few spots that you can pull over and stop for a rest. I believe this is the Devil's Elbow, which is the deepest part of the river. The river gets pretty deep right off the banks and it is one of the few big bends in the river. I stopped here to jump off a tree, snorkel, and enjoy the water.
I've also heard of people getting out in the shallows near the Rainbow River State park entrance and then drifting downstream towing their kayak. Just make sure you have a dive flag so people know that you are in the water and are looking for you.
Wildlife on the Rainbow River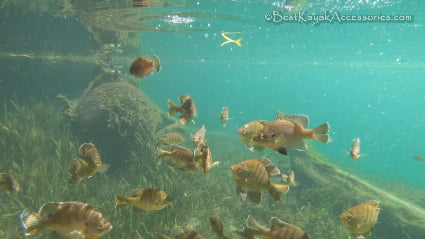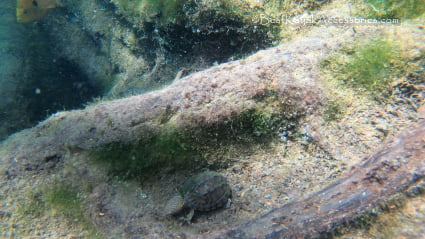 The first time on the river I saw river otters and a small gator, along with lots of fish. This most recent time, there were tons of birds, turtles, and fish, but no otters or alligators. I really enjoyed the wildlife this second time, though. With less motorboats during the week, I was able to enjoy nature a lot more. Also, since the wind was lower on this day, it was easier to see things underwater. Seeing turtles swimming under the surface was very unique.
Conclusion
Kayaking Rainbow River is a great experience. Go during the week when you can get an early start if you can. Take time to explore Gissy Spring Run and snorkel a lot. The cool, refreshing water is a great reward for a hot day of paddling.
Have you been kayaking on the Rainbow River? What were your thoughts?