So right off the bat, let's clear the air. The name may sound gross, but the preserve is not named Cockroach Bay because of cockroaches. Apparently, early Spanish explorers called the horseshoe crabs in the area "cockroaches" (History). Now that we've cleared that up, let's take a look at why kayaking Cockroach Bay is #3 on our Top 10 Places to Kayak in Tampa Bay Area list.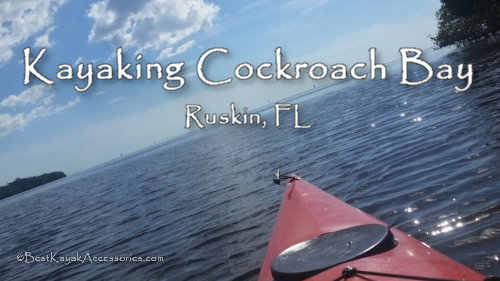 Overview
The Cockroach Bay Aquatic Preserve is 4,900 acres of mangrove islands and saltwater marsh. It is located near Ruskin, FL south of EG Simmons Park and goes from the mouth of the Little Manatee River to the Manatee County line. Kayaking Cockroach Bay includes 2 paddling trails and a lot of options if you choose to make your own adventure. Filled with birds, fish and other wildlife, Cockroach Bay Preserve is one of Best Kayak Accessories favorite places to kayak in Tampa Bay. When you're planning your kayaking Cockroach Bay trip, make sure to check the tides and winds. Both will significantly impact what you'll want to do on the paddle.
Launch
The best place to launch when kayaking Cockroach Bay is from the Cockroach Bay boat ramp at:
5299 Cockroach Bay Rd
Ruskin, FL 33570

There is usually plenty of parking, although there are a lot of fishing boats on the weekends. The launch is a small beach area next to the concrete boat ramp.
One note, there are no kayak rentals available on site at Cockroach Bay. Canoe Outpost nearby advertises some rental options with transport or transporting yourself. Because there aren't as many rentals, though, the area is very quiet. It is mainly fishing boats and fishing kayaks around.
Kayak Trails
North Trail
The north trail starts just to the right of the launch. It goes through a number of mangrove tunnels and shallow backwater before opening up into a bigger bay. Overall the north trail is appox 6.1 miles, although you don't have to do the whole trail.
One thing to note, the trail isn't marked very well. When you come out of a tunnel, you can't see the next sign in many areas. I call it a guess and check trail. You may go the wrong way a couple of time, but if you are just enjoying your day, it's not a big deal. If you have GPS, it is helpful so you don't feel as concerned about whether or not you're on the trail. The trail is impacted by tides. For the trail, you want to avoid low tide, although if you are exploring on your own near the bay, I actually prefer low tide.
South Trail
The south trail is similar to the north trail but longer. It is approximately 7 miles. This starts to the left of the boat ramp, and takes you back along the edge of the road for a bit. Mangrove tunnels are plentiful, and this trail is also not marked particularly well either. It is easy to get off the path and not realize it, but you will find it again. Have your GPS handy just in case. This side has more small islands and less big bays, although there is one big one on the southeast end that I haven't explored yet.
Exploring the Area on Your Own
This is actually what I enjoy most about kayaking Cockroach Bay. I get tired of mangrove islands and mangrove tunnels. My favorite thing at Cockroach Bay is to leave the launch and head down the boat channel towards the bay. When you get to the edge of the mangrove islands, you can look across the bay and see St. Petersburg, FL like it is right there. To the right, way in the distance, you can see Tampa. Also, to the left, you can see the Sunshine Skyway bridge.
If you go into the bay along the coastal islands, make sure you wear your PFD and if it's choppy, you may need your spray skirt. I like to bring a lunch in my deck bag, and have my GoPro handy.
Kayaking Cockroach Bay North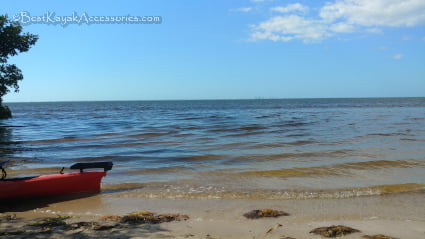 If you turn right from the boat channel, I like to paddle to Big Pass Key. There are several beaches here that are a nice place to stop for lunch, enjoy the water, and get a nice view of St. Pete. These beaches are better when the tide is lower, but they are still accessible at high tide. This is one of the main reasons why I like this area. Most of the backwater mangrove islands on the trails don't have anywhere to stop. From here, you can enjoy the other barrier islands and passes. There's not anything that you have to do or must avoid. It's pretty much whatever you choose. I have gone as far as Shell Key, but I'd like to go all the way to Little Harbor for a meal sometime. It looks so close, but I know it's a lot farther that I'd expect.
KAYAKING COCKROACH BAY South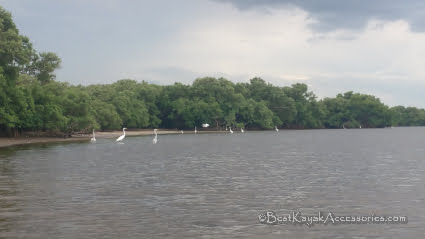 Lately, I've started turning left out of the channel. I usually cut in behind Snake Key and then move out to the bay side of the barrier islands. Passing Buoy Pass and Beacon Pass brings me to Beacon Key. There isn't really a way to cut back into the kayak trails from here, as Beacon Key is more of a peninsula. However, when the tide is down, the beaches here are decent size, and there are rarely anyone but a couple of fisherman anywhere in sight. I have made it as far south as Moody Point, and could have been farther but both times I've gone here it's either been a later start or I had commitments to get home to. I really enjoy this section though. The wildlife is plentiful and it is truly a peaceful and relaxing area to be in.
Wildlife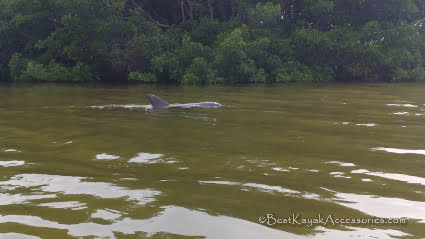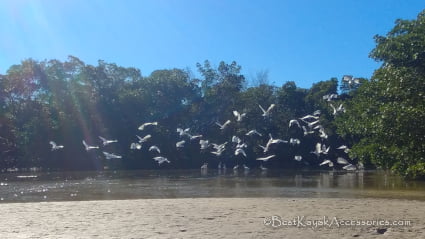 Since Cockroach Bay doesn't have a lot of recreational kayaks and party boats, it's a lot more in touch with nature. I have seen rays, dolphins, fiddler crabs, blue crabs, red fish, snook, bonnethead sharks, egrets, herons, and all kinds of birds. There are also some places with a lot of seashells. Make sure the shells don't have hermit crabs or other animals living in them though.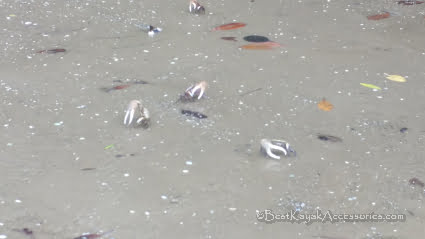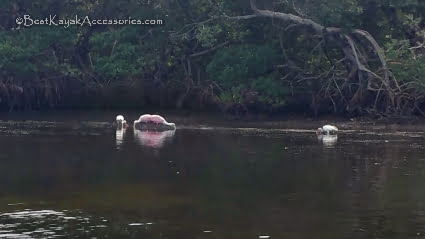 The big bay on the north side has a lot of fish jumping around and that's where I saw the closest dolphins. Beacon Key, though, has so many fish on the grass flats. I was out at dusk and saw a guy catch a 28″ red fish that he released after I took a pic for him. I also saw schools of red fish feeding in the grasses. Fiddler crabs marched along the beach and tried to look tough if you got close to them. I saw some dolphins down here, but they stayed a little further out in the water in this section. Roseate spoonbills and herons covered the shallows along the shore in several sections. (Now don't go chasing off all our wildlife 🙂 but this is my favorite area of kayaking Cockroach Bay so far.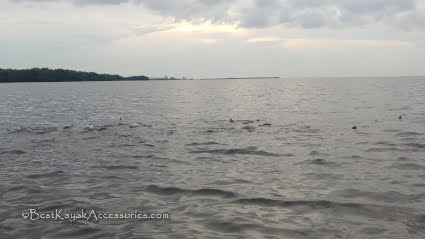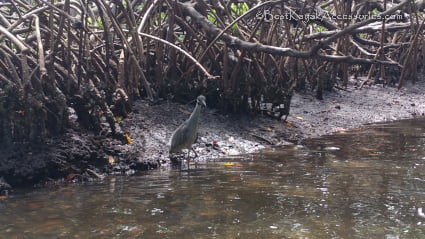 Conclusion
Cockroach Bay is quiet, diverse, peaceful, and adventurous. My favorite areas are kayaking off trail south along Beacon Key, kayaking off trail north to Big Pass Key and then beyond, and the south paddling trail.
Allow yourself plenty of time to enjoy the area. Have a GPS handy so you know which keys you are near. Don't be in a rush and take in the sights. It is truly a unique place compared to many of the more popular kayak spots around.
Have you been kayaking Cockroach Bay? What is your part to explore? Leave a comment below!