Your kayak paddle is one of the best kayak accessories that you can purchase. It is often taken for granted when you first start, but after you've used a nice paddle you will quickly know why it's important. That's why when I was upgrading my paddle I was happy to find the Aquabound Manta Ray Carbon Fiber kayak paddle (Shop Now).
I started with a regular aluminum kayak paddle from Dick's Sporting Goods. It wasn't bad, necessarily, if you wanted a good workout. After paddling 4 miles or so, I could feel my shoulders and traps from holding the weight of the paddle. I borrowed a carbon fiber paddle from someone in our local paddle club, and I quickly felt the difference. This caused me to go on a hunt for an upgraded paddle almost immediately.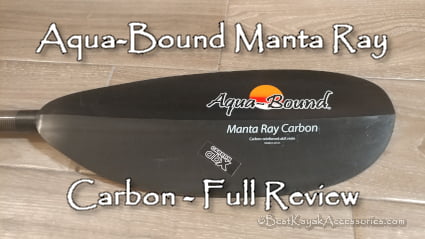 What Made Me Pick the Aquabound Manta Ray?
I started my hunt for the best paddles for kayaking. I checked out many of these on our list and many more. Since I am a high angle paddler, immediately there were some leading contenders. The Werner Cyprus Carbon fiber paddle and the Aquabound Manta Ray Carbon Fiber paddle were a few of these. The Cyprus was a little out of my budget at that time. Another strong contender was the Werner Camano fiberglass paddle. Although the Camano is a low-angle paddle, the reviews are always positive and it was within my budget, too.
Finally, after much research, I went with the Aquabound Manta Ray 2 pc. I chose the full carbon fiber model because it is a few ounces lighter than the hybrid. The hybrid has fiberglass blades and carbon shaft, and it is slightly cheaper. I felt the full carbon model was worth it, because it's only slightly more expensive for the lighter paddle. I've always heard don't skimp on your paddle, and I feel that's great advice.
Specs – Aquabound Manta Ray Carbon Fiber Kayak Paddle
| | |
| --- | --- |
| Weight | 29.5 oz |
| Length | Available in 210cm, 220 cm, 230 cm, 240 cm, 250 cm |
| Shaft Material | Full 100% Carbon |
| Ferrule | Posi-Lok |
| Feathering | 0-60 degree |
| Blade Material | abX Carbon Reinforced Nylon |
| Blade Size | 7.25″ x 18″ (105 sq. in.) |
| Designed For | High Angle paddlers |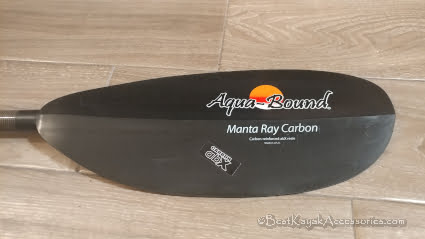 Pros
Smooth Paddling: The Aquabound Manta Ray enters and exits the water cleanly. I noticed this right away compared to my beginner aluminum paddle. It is a smooth pull through the water.
Lightweight: The lighter weight wasn't immediately noticeable, but by the middle of my initial paddle, I could tell a difference in my shoulders and traps. Where I felt like I was getting a workout before, I still felt fresh and ready to paddle now.
Durability: I was concerned about carbon fiber paddles being less sturdy than my aluminum and plastic paddle which felt indestructible. So far, the Aquabound Manta Ray carbon fiber has held up great. I haven't noticed any real wear and it has been with me on quite a few paddles in various conditions now.
The Posi-lok Ferrule system (more info): The ferrule is strong. Less expensive paddles have some slack in the connection, but the Posi-lok is stong. It is easy to assemble and release but feels entirely secure.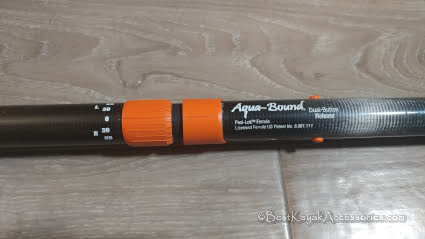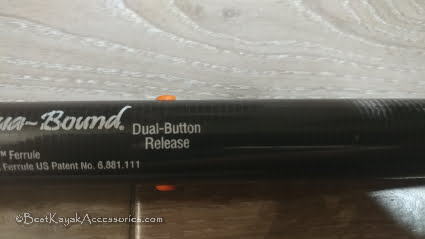 Cons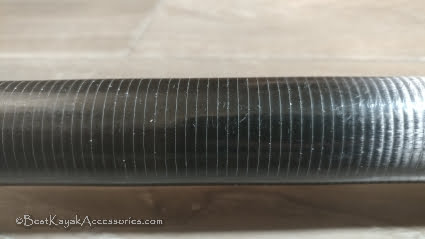 Texture of shaft: The carbon shaft has strips along the full length and no grips. This isn't bad on shorter paddles, but it has caused some blisters on longer paddles. I do like having some texture here for grip, but I wish it was a little smoother. Gloves help, but I always remember to put them on too late.
Overall Impression
I really am impressed with this kayak paddle. I underestimated how much the lighter paddle would help me on paddles over 4 miles. Mainly, I don't get tired as fast, which makes trips more enjoyable. The Posi-lok ferrule is very impressive. This stands out, since the ferrules on my other 3 paddles are all weak links on those cheaper paddles. Lastly, this is definitely a high-angle paddle. While you can paddle it with a lower angle, there are better paddles if low angle is your primary stroke.
This will be a big upgrade over your starter paddles. There are more expensive paddles out there, and they are worth the money if you can afford them. If you are looking for a quality paddle and your budget is in the $150-250 range, I highly recommend the Aquabound Manta Ray Carbon Fiber kayak paddle.
Other Manta Ray Models: