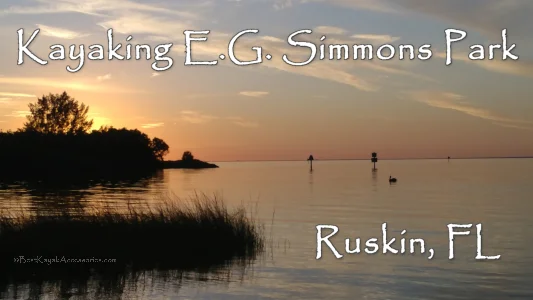 It wasn't until recently that I went Kayaking EG Simmons Park. I don't know what made me wait so long. Maybe because it was so close to Cockroach Bay, maybe because it sounded like a short, uninteresting mangrove paddle, or maybe because it didn't show up on the area paddling resources that I used. Anyways, on a recent trip back from Cockroach Bay, I decided that I should check it out, and I'm glad that I did.
Launch
EG Simmons Park (site) is located at:
2401 19th Ave NW
Ruskin, FL 33570

There is a $2 park fee to get in. I bring my own kayak, so I followed someone else with a kayak, and we launched near the boat ramp. However, there are rentals available. The park ranger at the gate can give you directions if you need to rent a kayak.

Just past the boat ramp turn left and there is a pavilion with a small, but rocky beach. This is right before you get to the swimming area. There were concrete barriers about 50-75 yards in the water to create a sheltered area to launch from. This is where I've launched each time I've been to EG Simmons Regional Park. When kayaking EG Simmons Park, you can go north or south from the boat ramp, and both trips have their benefits.
Kayaking EG Simmons Park – Northeast From the Boat Ramp
Turning right as you leave the boat ramp/beach area, you will pass the beach/swimming area. There were pelicans and cormorants all along the concrete barrier as we passed. Next there is a small pass that will lead back to some mangrove flats, although we didn't explore this area. Next is a longer canal that goes along the road on one side and mangroves on the other. There were some rental canoes coming down the canal, and the mangroves back here look like the start of the kayak trail. We still didn't venture down here, though, and we continued along the edge of the mangroves and the Tampa Bay.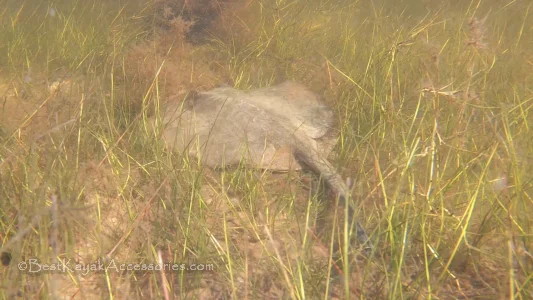 After passing the canal, we would explore little bays and inlets along the edge. We did find 3 kayak trail markers, and tried to follow the path, but we lost the trail and headed back to the bay. We didn't see a lot of fish, which surprised me considering how many I see down at Cockroach Bay which isn't far at all. The water temperatures are quite a bit cooler, though, so it may be the time of year. We did see a lot of blue crabs along the shallow water.
A couple miles along the shore, we stopped to stretch our legs. It was surprising how far out you could walk, and I didn't even go thigh deep! The bottom is an interesting mix of sand and grasses, and we could see Apollo Beach and Big Bend power plant in the distance. Although I was tempted to go further, we were ready to head back for today. We paddled out to about 4-6 ft deep, and paddled along this depth which was a decent amount offshore. Out here we saw quite a few groups of 3-6 cownose rays swimming through the water. I wish I could have grabbed my GoPro faster, but each time I tried the rays had swam out of sight. They were so graceful, though, and it was truly the highlight of the day.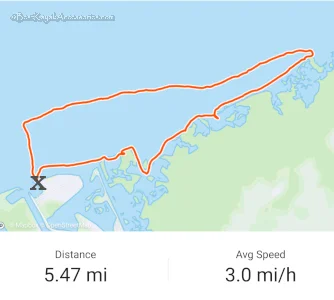 Things that I'd still like to do on the Northeast side:
Complete the kayak trail
Kayak to Circles for lunch and kayak back (about 8 miles round trip)
Kayaking EG Simmons Park – South From the Boat Ramp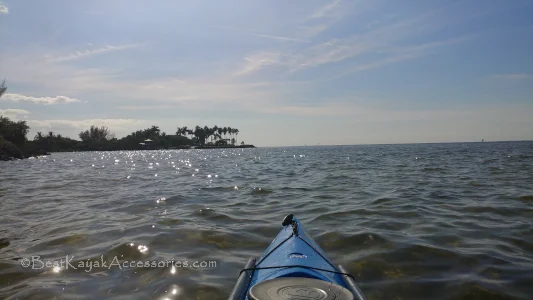 Turning left as you leave the boat ramp area, I crossed the channel for the boaters and went around Mangrove Point. Here there is a seawall made of large rocks. I was told there are often fish along these rocks, but I didn't see much on this day. Around the point, there was an inlet and then there were houses across the channel. I decided to explore the inlet, but there wasn't much to see, and the whole area was surrounded by roads, so there was no way out except the way I came in.
Back at the mouth of the inlet I continued south around the houses on Dickman Island. The south side is much more urban than the northeast side, but it was still enjoyable. In the shallows, I saw a few skates/rays, which is always cool to watch. I had always planned to go to Sunset Grill and Little Harbor when kayaking Cockroach Bay, but here it was much closer. I already had lunch, so I continued paddling past it, but there were people out on the beach enjoying the day as I went by. This would definitely be a nice place to stop and have lunch if you needed a rest.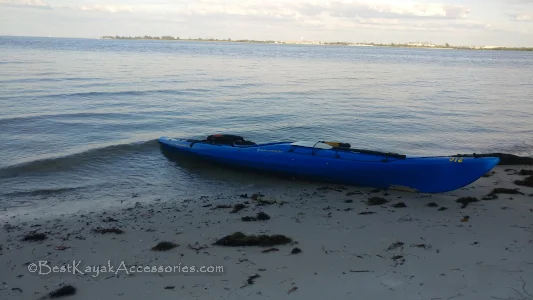 After a little more paddling and passing a few canals, I came to where the Little Manatee River empties into Tampa Bay. I wish I had more time to explore here, because the water was clear, slightly deeper and there were several channels going different directions. I wanted to make it to the north part of where I paddle Cockroach Bay, though, so I continued just a bit further. Passing the north side of Tropical Island, I made it to the beach on Sand Key. Here I got out, stretched, and enjoyed the weather and the view!
Heading back, I cut across straight towards Dickman Island. On the way, I saw a cownose ray from a distance, as it's fins were sticking up above the water. Also looking down, I saw a bed of sand dollars along with a star fish. I have seen a lot of these out at Shell Key and Ft. De Soto, but it was weird to see them this deep and undisturbed.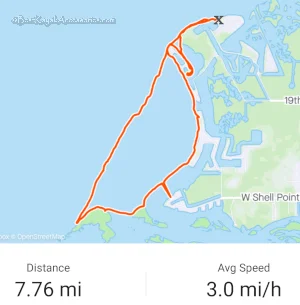 Making it back to the launch just before sunset, I took a few pictures and loaded up the kayak for the drive home.
Overall Thoughts
I saw less wildlife here than I expected, but it was unique wildlife. The urban setting of the south paddle is a nice change from some of the other areas I paddle, although I usually prefer natural settings. I do like how you can choose your own adventure here and you won't run out of areas to explore after your first trip or 2. Although I overlooked it for a while, I'm glad I finally checked it out. I'll definitely need to see where it ranks on my top 10 places to kayak tampa bay!
What do you think of kayaking EG Simmons Park? Leave your comments below!