Kayaking Little Manatee River in Wimauma, FL has many different sections that you can paddle. It runs from Ft. Lonesome out to Tampa Bay right near Cockroach Bay. One of the most popular paddles is from US-301 through Little Manatee River State Park (Park Website). Canoe Outpost is an outfitter right there if you need to rent a canoe or kayak. They also provide shuttle service if you contact them, so you only have to paddle downstream. It was $22 for the shuttle when I contacted them recently.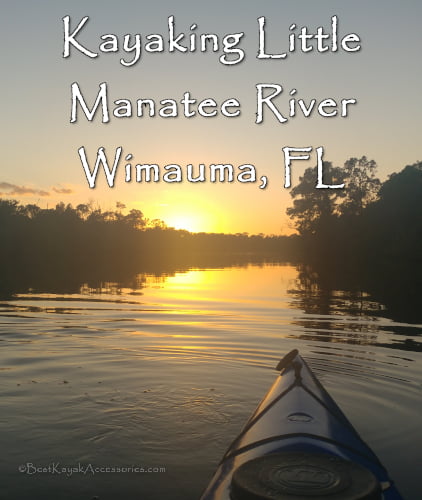 On this day, I didn't want to use the shuttle, and I heard the area upstream from US-301 was more secluded and advanced. That sounded interesting to me. I decided to paddle upstream from US-301 as far as I felt like and then float back to the launch to load up and head home.
Kayaking Little Manatee River – US-301 Launch
You can launch from Canoe Outpost for a small fee. I chose to launch from under the overpass, which worked great. I had to leave my truck in a little less secure area, but otherwise the launch was fine. The launch was very sandy, and the river was flowing at a decent speed this day. I loaded up all my best kayak accessories along with the GoPro and headed out.
Kayaking Upstream from US-301
Taking off against the current wasn't too bad. Although the current was moving quickly, the kayak cut through the water and did pretty well. I quickly realized why this area is considered a more advanced paddle, though. There were branches and fallen trees all over. You really need to be able to control your kayak in this section. Although it was tight with a low ceiling in many places, I never had to get out and portage anywhere. I went upstream a little over 2 miles.
Related: Top 10 Places to Kayak in Tampa Bay Area
Railroad Truss Bridge on the Little Manatee River
Just less than 2 miles into the paddle, the sky was getting overcast, and I was starting to think I should head back. However, I remembered pictures of a railroad bridge, and I knew it couldn't be much further. I decided to press on a bit further, and around the 2 mile mark, I found the Seaboard Air Line Truss Bridge (Info). This bridge was abandoned in the mid-80s, and you could tell. Many of the railroad ties are missing now and deteriorating, but it was a pretty sight. I'm glad I went the extra bit to see it.
Downstream Back to US-301 launch
With the threat of a storm, I headed back toward the launch. The current kicked the back of my kayak around more than I expected. This made downstream a little more difficult to navigate than upstream when everything happened slower. The river wasn't dangerously fast, but it reminded me why it's important to remember your safety equipment and practices when kayaking (River hazards). Always wear your PFD for kayaks.
Overall Thoughts of This Section
I saw very little wildlife. The water was very dark, so you couldn't see anything under the surface. It is a tannic river, but you can usually see through those a little. I don't know if this is normal or if the water level was just higher than usual on this day. I think I saw 3 fish come up to the surface, a few giant Banana Spiders (Golden Silk Orb Weaver), and a lot of butterflies- but that was it. The lack of wildlife surprised me for such a quiet section of the river. I literally didn't see anyone else on this paddle.
The overgrowth took away a lot of my enjoyment of this section. I really liked the railroad bridge though. It was such a cool structure to see from the water in what felt like the middle of nowhere.
I don't know that I'd paddle this section again. I would definitely go downstream from the 301 launch next time and see how that section compares. Starting further upstream and paddling downstream through this section would interest me. I heard you can camp along this river, and I'd consider this section for that reason.
What do you think of kayaking Little Manatee River?