I always heard about Caladesi Island , but hadn't been there until recently. I decided to check it out on a beautiful, Sunday afternoon. The weekends here are very busy – especially with boaters and jet skis. I did go back on a weekday, as well. It was quite a bit less crowded during the week, as you'd expect.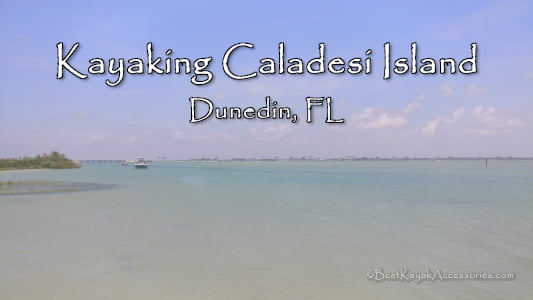 Getting to Caladesi Island
You have to boat or take a long hike to get to the Island. On the weekend, there was hardly any spots available on the south side, so I launched from the north side of the causeway. This made the trip a little farther, but Caladesi Island is close anyways. There is a channel between the causeway and the island, and it extends between Caladesi Island and Honeymoon Island to the Gulf. This channel gets a little choppy, especially if boaters are going by. Also, the channel has a lot of boats parked and people partying.
Gulf Side and Beach at Caladesi Island
Pushing through the channel out to the Gulf is the best part of this paddle, in my opinion. Make sure you have your spray skirt and PFD. Once you go around to the Gulf side, it's not nearly as busy. You can go quite a ways down the beach, and even on the weekend, it wasn't crowded.
Related: Top 10 Places to Kayak in Tampa Bay Area
Take time to enjoy the beach here. The sand and beautiful water remind you why people vacation on Florida's Gulf Coast. It isn't a very long paddle to get here, so the beach is the main reason to come.
East Side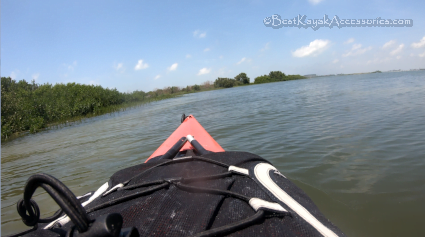 On the east side of Caladesi Island, along the shore the water is calm and shallow. The second time I went, we watched dolphins feeding near a nearby island. This is the only place I saw any fish or birds. There is a kayak trail (Pinellas Paddling Trails) that I've heard good things about. To date, I haven't made it that far, as I have gone out to the beach side both times here. I do plan to check this out in the future, and I'll update this section once I've done that. This part of Caladesi Island is nice, because power boats aren't allowed in this area. It feels like you're more in nature because of that, even though you're still right around the corner from a busy boat channel.
Summary
Kayaking at Caladesi Island is a nice paddle, especially if you go during the week or avoid the high traffic boating areas. The beach is wonderful, and the water is amazing. If you want to see wildlife, the east side of the island is probably your best bet, and you should check out the paddling trails if you have a little more time.