The NRS Taj M'Haul is our #1 best kayak deck bag here at Best Kayak Accessories. We first started looking for a deck bag when we got a touring kayak. Before that, I shoved whatever I needed at my feet of a recreational kayak, and since the cockpit was so large, it wasn't a big deal. When I moved up to a touring kayak, I didn't like having drinks, food, and other items crammed around my legs in the hot Florida weather. So I started looking at deck bags.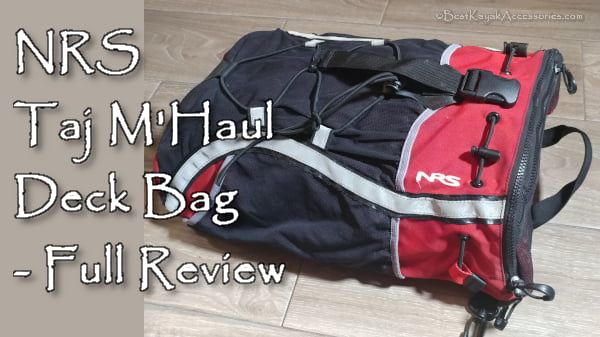 Many of the cheaper ones had surprisingly poor reviews. The NRS Taj M'Haul and the Sea to Summit had the best reviews. Someone in our local kayak club had the NRS bag, and I saw a review that someone had switched the Sea to Summit for the NRS bag, so that settled that for me. I bought the NRS Taj M'Haul, and I've been very happy with it so far.
Quick Specs
400 denier outer shell
Dimensions: 17″ L x 13-11″ W (tapers) x 5″ H
Plastic inner shell to maintain shape
Waterproof inner bag w/ zip seal
Velcro attachment straps with clips.
NRS Taj M'Haul Review
My bag has been through quite a lot, but it has held up pretty well. So what do we think?
Inner Storage: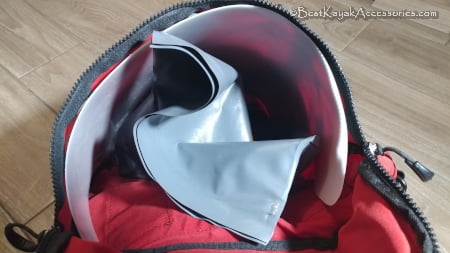 I like having a deck bag on my kayak, because I can keep my food, drink, sunscreen, bug spray, and more within arms reach. I don't have to stop and get into the hatches, but it also isn't crammed around my legs making me hot. The NRS Taj Mahal has plenty of room for this. I can keep all of this, plus I usually keep a long-sleeve shirt and face protector in here, too with room to spare.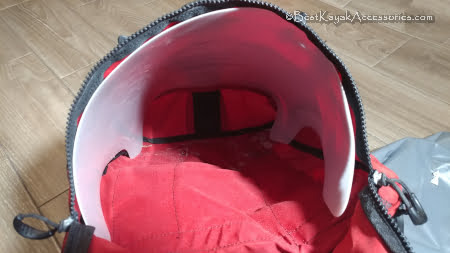 The hard plastic liner keeps the bag's shape and keeps stuff inside from being crushed. My biggest complaint with the whole bag is that I wish this liner stayed in place a little better. When you have the bag standing up off the kayak, the shell kind of floats around more than I'd like. I wish it had tabs or fasteners to keep it in place better.
Waterproof Bag: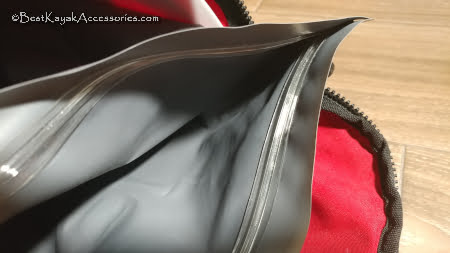 The NRS Taj M'haul has a waterproof, zip closure bag included, so you don't need a separate kayak dry bag for what's inside. The zip seal is a little cumbersome if you're going into the bag a lot, but it's a great peace of mind that your contents are safe. If I am not carrying something really valuable, I usually don't use the zip seal, but the bag still keeps out drips from the paddle and helps if a small wave comes over the deck. This bag is removable too, so you can use it separately or not at all if you choose.
Outer Pockets: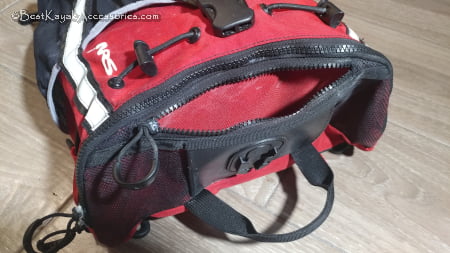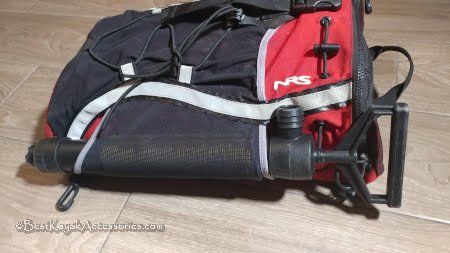 This bag has great outer storage. There is a small pocket on the flap going into the bag. I usually keep a small container of sunscreen here and a knife. It is mesh, so it's not waterproof. I also slide my bilge pump down the mesh on the side and it holds it perfectly. This keeps it out of my way, but still in close reach and convenient if there is an emergency. There is some bungee rigging and an expandable mesh in the center. I honestly haven't used this much. Probably putting a wet shirt is about the most I've used it for.
On the small pocket is also an attachment clip. You can get a drink holder for this attachment. I haven't used this so far, but I'm sure it would be convenient if you use cans or smaller bottles. I'm not sure if it would hold 32 oz Gatorade bottles, so that's mainly why I haven't gotten one.
I don't know if I'll always use it this way, but I've also used the clip mount for my GoPro Hero7 Black (Shop Now) and clipped it on the hard inner shell and the outer part of the bag to film my trips, and it has been sturdy and steady so far.
Deck Attachment: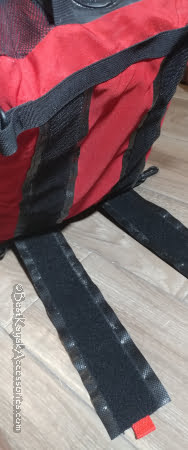 I am very happy with how secure the NRS Taj Mahal is. When I first got it, I only used the 4 clips on my bungee rigging. This was pretty secure, but the bag did move a little. Then, I started using the hook and loop/Velcro-type strips along with clips. This instantly made the bag fully secure. I have gone out through some beach launches where a wave crashed over the deck and I never had any fear of the bag coming loose or anything.
Conclusion:
I am very happy with this bag. I feel like it is durable, convenient, and not too bulky. It doesn't impede paddling and isn't very high profile for the amount of storage it provides. I would definitely buy this bag again.
Have you used this bag? Leave a comment below to let us know your thoughts!