We at Best Kayak Accessories had heard great things about kayaking Chassahowitzka River in Homosassa, FL. We finally made it up there last weekend, and I am so glad we did! The river is a bit of a drive from Tampa, but it was worth it. It is a very natural setting with many great things to check out within a very close distance.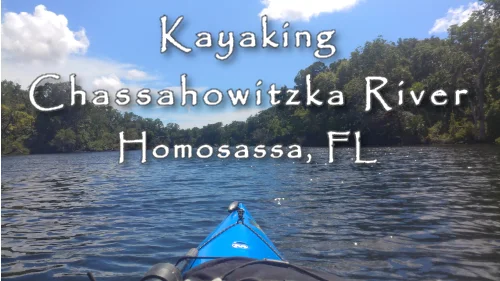 Where to go for Kayaking Chassahowitzka River
I launched from the Chassahowitzka River Campground at 8600 W Miss Maggie Drive Chassahowitzka FL 34448. They do have kayak and paddleboard rentals if you need to rent one. The parking lot is nice, although it was pretty crowded on this Sunday. Also, there is a $5 parking fee for just a car ($7 if you have a trailer), and there is a $10 minimum on credit cards. So make sure to have some cash.
Paddle Florida has a nice write up of the area, and I intended to use their map of the area. However, I forgot to download it before the trip, and I had no cell service out on the river. The office where you pay for parking also has a map that came in very handy.
The launch is a nice beachy area, along with a ramp if you prefer. I took off and headed upstream from the campground. Immediately, it was a natural feel, but there were a lot of people. Apparently right in the middle of the river is the main spring, which I didn't even realize I passed. This was in the main boat channel and was easy to miss.
7 Sisters Springs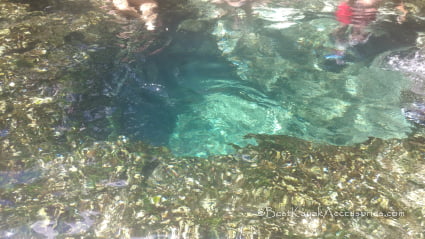 Seven Sisters Springs was not very far upstream, and it was a cool, short little section. I've also seen this referred to as Un-named Spring. There were a lot of boats, kayaks, and swimmers. I started talking to a few people hanging out there, and as I leaned in to hear the guy better, I slipped into a small hole and jammed my toe (not a diving hole). I got a pretty good bruise out of it and could feel it the rest of the day. So that was a good start, and pro tip: Be careful on the rocks. Ha ha.
This section has several holes and caves that you could swim through. Besides the holes, this area was pretty shallow for the most part, so people were sitting on the rocks and standing about calf deep at the main spring. On the way back to the main river, there are several other caves that you can swim through and the water is a little deeper. If you choose to swim through the caves, be careful. There is a sign that someone died swimming in the caves, and we don't want any more tradgedies.
I didn't swim through the caves on this day, but I liked this video made by Curtis Whitman.
Leaving Seven Sisters Springs, I went up through the canals for a little bit, but didn't find anything too exciting and decided to head downstream.
Crab Creek Spring
Just past the campground kayak launch, there is a shallow area on the right where power boats parked. This turned out to be the entrance to Crab Creek and Crab Creek Springs. It was loud at the opening with everyone having a good time, but once on the creek, it got quiet and peaceful. The creek is short, too, so it surprised me how quiet it got.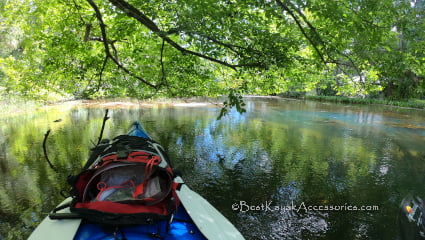 I reached the spring vent, and it was pretty cool. It looked like it had a strong flow. The water is clear, but had a lot of particles in it. I don't know if it was parts of the surrounding grass getting into the stream or what. This isn't really an area to swim, but I am glad that I checked it out.
The best part of this creek was on the way out. I saw a family of otters eating and playing in the reeds. This is the second time I've seen otters in the wild, and I could watch them all day. Rainbow River was the other place that I saw them. I took some video of them, but it is too far away. I'm trying to zoom in and see if I can get some good shots, but I enjoyed watching them for a few minutes. Then it was back to kayaking Chassahowitzka River, and the river was much more peaceful beyond this point.
Baird Creek and The Crack Spring
Baird Creek comes up on the south side of the river not too far downstream from Crab Creek. It was very quiet and I only passed a couple of kayakers leaving the area. Some sections of the creek are quite narrow and I began to wonder if there would be much to see. I did see a little snake swim across the creek, which was cool. Blue Spring was along here somewhere, but I didn't notice it. There was a little lagoon off to the side that I didn't check out, so it may have been there, or I could have gone over it without noticing. There had been some recent storms so a lot of locals said the water was cloudier than normal.
Related: Top 10 Places to Kayak in Tampa Bay Area
Getting closer to the top of Baird Creek, I saw a lot more people. Kayaks and canoes were pulled over to the side, as the creek became impassable with downed trees and shallows. Soon I saw about 6-8 people walking down the creek to load up and leave. I grabbed my last bit of lunch, and after eating, waded up the creek to The Crack.
The Crack is a cool swimming hole. A local family was still here when I arrived, and the kids swang off the rope swings as fast as they could climb back up. It is pretty shallow here, though, except for the spring vent, which is named appropriately. It is just a crack, and the water wasn't especially clear this day from the swimming and recent storms. Definitely check this area out, though, as it was quieter than 7 Sisters and a really neat place to relax for a bit.
Salt Creek
After leaving Baird Creek, I crossed to the north side and paddled a bit downstream. The river branches, and I took the north branch to get into Salt Creek a little easier. Looking at the map now, I see that I went through the wider sections until it dead ended, but I missed the actual creek I was looking for. Salt Creek is a narrow branch on the west side, and then it heads up a decent ways. Next time, I will have to check this out, and I hope I didn't miss an amazing spring.
Potter Creek
Potter Creek was an interesting paddle. The creek was pretty wide, but there were palm trees along the whole thing. I was trying to think if I'd ever seen that, and I don't know if I have. Usually I see palms mixed in with cypress or other trees, unless I'm at the beach, but they aren't as thick then. I thought that made a nice view along the creek.
I noticed the water getting clearer the further up the creek I went. Then, I came to a downed tree, and I had to portage around it, but it was worth it. The water on the other side was even clearer and it seemed like nobody else had been there. I'm sure they had, but it was quiet and private and made for a nice few minutes of relaxation and tranquility. I'm pretty sure Ruth Springs is at the end of this section. Unfortunately I didn't find the actual vent for Ruth Springs. There was a decent size pool where I think the spring was, but a few downed trees blocked access.
In writing this article, I looked up a few things on this spring, and apparently others have had a similar experience finding it, and they also described the rewarding feeling of this private area. Check out Springs Fever for more info on their trip.
Heading Back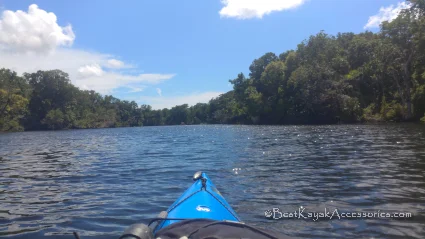 With it getting late, I figured I'll come back another time to check it out more. With that, I decided to call it a day. I looked for an area marked "Tressle", but wasn't able to find it. Apparently it's the remnants of an old railroad trestle, so I don't know that I missed anything. I'll still look for it next time.
As I paddled a little further, something lifted me out of the water and made a big circular ripple around me! The water was dark, and I had gone over a few logs that hadn't seen. This didn't feel like that, though. My best guess is it may have been a manatee, but I didn't directly see anything. I wish I had a picture of my face, though, because I'm sure it was priceless! Another reminder on why you should always wear your PFD when kayaking.
I stopped at Snapper Hole, which I had skipped on the way out, but there wasn't much to see there. Continuing on, I arrived back at the launch. Another successful and enjoyable day on the water.
Overall Thoughts on Kayaking Chassahowitzka River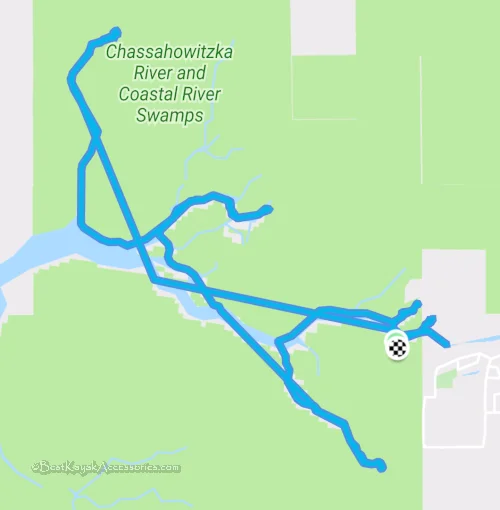 I really liked "The Chaz". It was a nice mix of springs with areas that you could get out and swim, beautiful and natural rivers, plus short spring runs with clear water. Overall, Strava said I did 8.63 miles. I don't know if that's totally accurate, because it had a straight line at the end instead of my actual paddle. It felt shorter, but that may have been due to many stops. There are a lot of cool things to see and do in an easily accessible area. This is one of the only rivers that I've been on where it felt like a natural setting with little to no development, but also had nice areas to swim and relax. I will definitely come back here again, and you should too!
What do you think about kayaking Chassahowitzka River? Did I miss anything? What's your favorite part? Leave a comment below!